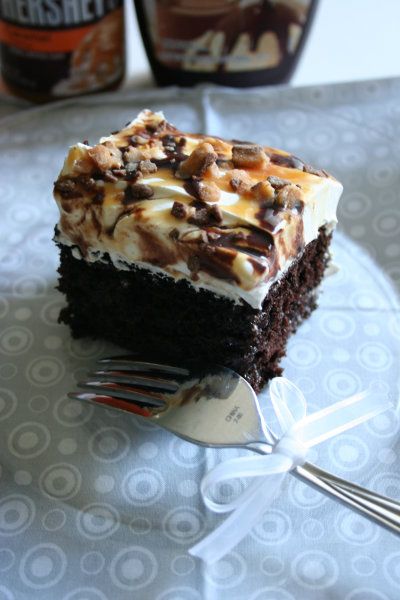 "Let's talk about sex baby, Let's talk about you and me. Lets talk about all the good things and the bad things, that may be. Let's talk about sex"..... CAKE!
Gosh, I'm hoping this doesn't get rated X or filtered because of its scandalous name but it is what it is. I didn't name it but I do LOVE it! Get your mind out of the gutter, the cake NOT the name!
Better Than Sex Cake, Almost Better Than Sex Cake, Better Than Anything Cake. This is a cake by MANY names. If you are under 18, over 70 or if you are speaking to your parents or children that fall into the aforementioned age category, you should probably just go ahead and refer to it in the "better than anything" form. We called it "Better Than Sex Cake" (unless we are asking the kids if they want a piece). Is it really better than sex? Well that my dear readers is up to your taste buds and opinion! According to
this website
(which I also love by the way!) it says that this cake is "better than sex" because "you can enjoy if for more than 30 seconds, if you're not satisfied you can have another piece. Cake doesn't care if you share, and it won't lead to pregnancy, divorce or alimony". It's seriously one of the most divine, amazing, yet super easy desserts that I have EVER had the pleasure of eating (and making)! If you've ever had it, I'm sure you agree and if you never had, WHAT THE HECK ARE YOU WAITING FOR? You MUST make this. Seriously. Like NOW!
1 can of sweetened condensed milk (14 oz)
Prepare and bake cake according to the box directions.
After the cake is fully baked, immediately pull out of the oven and poke holes randomly over the entire surface of the cake using a fork, end of a wooden spoon or in my case I used the end of a chopstick.
While the cake is still hot, pour the can of condensed milk over the top of the entire cake. Do the same with the caramel topping (reserving about 1/8 for garnishment on the top of the finished cake)
Place cake in refrigerator to cool ( Approx 2 hours or longer)
Once cake has completely cooled, spread Cool Whip over the entire cake.
Drizzle reserved caramel topping in a zig zag motion over the top of the cake. Repeat the same process with the Hershey's Chocolate Syrup. Garnish with the Skor or Heath Bits (I used about 1/3 of the bag)
DIG IN! ENJOY!