In the last couple of weeks it has come to my attention that my kids will eat ANYTHING that has been dipped in chocolate or has chocolate involved. So when brainstorming for my "Fourth of July" treat ideas, it was a no brainer that this would be one of them and who wouldn't love a pail full of chocolate covered pretzles and strawberries? I also couldn't resisit trying to make "tuxedo" strawberries and boy am I glad I did! Those things are freakin' cute!!! Although there isn't much of a recipe to this I can tell you what I used.
Bag of pretzel rods - once you buy one bag you will become obsessed with standing at the store trying to pick the bag with the least amount of broken ones.
Wilton Candy Melts - I had white for the pretzels, a bag of dark chocolate for the strawberries and a bag of red colored white chocolate for the squiggles.
Instructions are pretty simple - dip in the chocolate and deocorate!! Okay maybe not that simple but here are a few things I've learned along the way:
* If microwaving the chocolate make sure you do it for short intervals at a time (either 30 seconds full power or 1 min on 50% power). Chocolate DOES burn and it happens rather fast. I have heard that you can save it by adding some Crisco to it, but in my experience that is like an urban ledgend because once my has been done it is DONE, no Crisco can save the day.
* Like the in the movie
Gremlins
- never, never get it wet. The chocolate will "seize" - or in regular terms will get into this big blog of funky chocolate that is impossible to save.
* When making the pretzels and decorating with sprinkles and nonpareils, make sure that you have shaken all of the excess chocolate off of the pretzel rods before sprinkling the decorations on. If not, chocolate will fall off in globs and into the bowl of decorations. Messed up pretzel rods and decorations = not good.
* When drizzling use either a disposable pastry bag or a sandwich bag. I melt my chocolate right in the bag and then cut a very small portion of the corner off. Begin to drizzle by zig zagging back and forth. Start with this motion prior to getting to the item that you are drizzling.
* Allow pretzels and/or strawberries to chill(until completely set)in the refrigerator before packaging.
*I microwave my chocolate for dipping pretzels, but for the strawberries I use a small melting pot (again I have a Wilton). You can use a small crock pot if you have one.
* When using a double boiler (which is what I used to do prior to purchasing my Wilton chocolate melting pot), remove the top pan and fill the bottom of the with just enough water so that it does not touch the bottom of the top pan. Cook on medium heat until you reach a boil (Remeber DO NOT have the chocolate on at this stage). Once it has reached a boil, turn off the heat THEN place the top pan (with the chocolate for melting) on the bottom of the double boiler. If the chocolate begins to harden, repeat the process but make sure you remove the chocolate before you turn the heat back on.
* For the tuxedo strawberries dip entirely in white chocolate. Place in refrigerator and wait for the white chocolate to harden. After it is set, bring back out and dip one side at an angle into regular chocolate, lift and repeat dipping the other side. Decorate buttons with a toothpick that has been dipped in chocolate of an alternate color.
ENJOY!!!
KEEP READING TO FIND OUT ABOUT MY GIVEAWAY!!!!
So here it is my first giveaway!!! Drum roll please....... Up for grabs is this wonderful little cookbook you might have heard about, from a very creative lady you might have heard about. Without further ado I present you to, Martha Stewart's Cupcake book!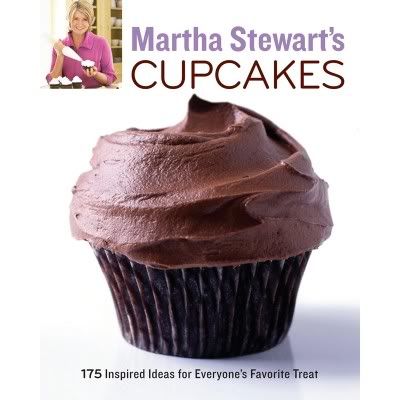 Photo is courtesy of
http://www.marthastewart.com/
To win this wonderful book here's all you have to do:
1.) Leave a comment on this post telling me what your favorite summertime dinner or dessert is (feel free to link your blog as well!). Remember to leave contact information with either your email or your own blog.
2.) Deadline to enter is 8pm PT on Tuesday June 30, 2009. The winner will be announced on Wednesday morning on this post.
3.) The winner will be chosen at random by random.org - random number generator.
GOOD LUCK and thanks for visiting my blog!