I just have to get this out of the way - I'm not sure why but I keep wanting to call these Blueberry Streusel Muffins - Violet Beauregarde style. You may not know the name but surely you remember.....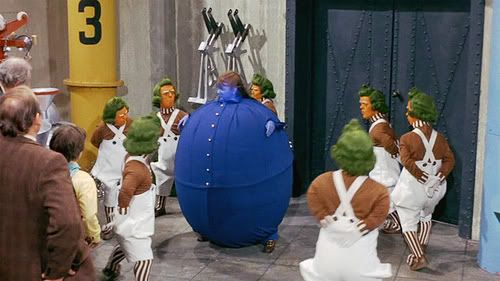 she is the girl from Willy Wonka who turns into a blueberry, BUT the one advantage that these have is that you won't have to worry about swelling up like Violet because these muffins are low fat (although to taste it you would NOT even know it - they are that sinfully delicious)! In fact, I will go as far to say your scale might even thank you for them. My scale has been in so much trouble that I'm have been contemplating selling it on eBay for being so cruel to me. Why can't it just lie to me? Blogging and baking and being in a new area with new restaurant opportunities does NOT make for a happy ending to the weight loss story. Now before you all start deleting the blog from your favorites - HOLD UP, I'm not going all soft on you, this will NOT turn into a low fat blog - oh heck no, I will just throw a "healthy" or "low fat" alternative on here every now and then to make the "Diet Nazi" - a.k.a the hubs happy. Just make sure no one tells him when I cry out for full fat donations smuggled to me in unmarked boxes. ;)
This recipe has been adapted slightly from Weight Watchers and it's listed as being worth 3 points HOWEVER, I saw that there is a typo (they have listed 1 TBSP of sugar and it is really 1 Cup of sugar, as stated later in the recipe)therefore I'm not sure which way they based their points.
Blueberry Streusel Muffins:Ingredients:
Muffins:
2 Cups of all purpose flour (in the past I used half white whole wheat and half all purpose flour to reduce the points even further)
1/2 tsp baking soda
1 tsp baking powder
1/2 tsp table salt
1 large egg
3/4 Cups sugar
3/4 Cup reduced fat sour cream
1 tsp vanilla extract
1/4 cup skim milk
2 Cups of Blueberries - washed and picked over
Streusel Topping:
1/4 Cup of all purpose flour - I used slightly more than 1/4 cup
1/4 Cup of Sugar - I used slightly more than 1/4 cup
2 TBSP butter
Directions:
Muffins:
*Preheat oven to 375.
*Place muffin liners in a 12 hole muffin tin - I actually got 14 muffins which also could possibly affect a slight reduction in points.
* In a large bowl, combine 2 cups of flour, baking soda, baking powder and salt; set aside.
*Using an electric mixer, beat egg with 3/4 cup of sugar in a large bowl until light and fluffy. Add sour cream and milk and beat until thoroughly combined; blend in vanilla extract.
* Add mixture with flour, baking soda, baking powder and salt. Beat until smooth.
* Fold in blueberries (make sure you coat them with flour so that they don't sink to the bottom of your muffin) and fill each muffin liner about 3/4 full; set aside.
Streusel Topping:
*Combine remaining 1/4 cup each of the flour and sugar. Pour in melted butter and combine with finger tips (if it is too moist add equal parts of flour and sugar until it looks like crumbs).
*Divide crumb mixture over muffins.
*Gently press into top of the muffin batter with finger tips.
* Bake until slightly golden and a toothpick inserted in a center of a muffin comes out clean, about 30 to 35 minutes. Cool in pans for 10 to 15 min and then transfer muffins onto racks to cool completely.
Enjoy!